Reporting of COVID-19 OTC/at-home test results through the Primary.Health portal creates actionable, robust public health data to guide community leaders.
Amidst a 'tripledemic' of COVID-19, RSV, and flu cases, the Primary.Health 'Report A Test' portal makes it easy to report results of OTC/at-home COVID-19 rapid tests. Reporting results helps to create a clearer picture of public health. And for users reporting a positive test result, the portal identifies nearby treatment options.
Reporting of COVID-19 rapid test outcomes through the portal creates actionable, robust population health data. The portal enables decision-makers to monitor local COVID-19 case rates to keep their schools, communities, and vulnerable populations safe and healthy.
There were more than 400,000 new COVID-19 cases reported the week of December 28, the CDC reports. Last fall, outbreaks from respiratory illnesses caused some schools in Maine, Kansas, and elsewhere to close temporarily.
Reporting COVID-19 test results through the portal is easy and takes only a few steps:
Search for your site by city, state, address, or zip code.

Locate your organization in the search results.

Provide contact and demographic information.

Give Primary.Health your consent and authorization.

Report your test result and find treatment near you.
Need to report another test result? Repeat portal users can easily retrieve their health records by entering their phone or e-mail address.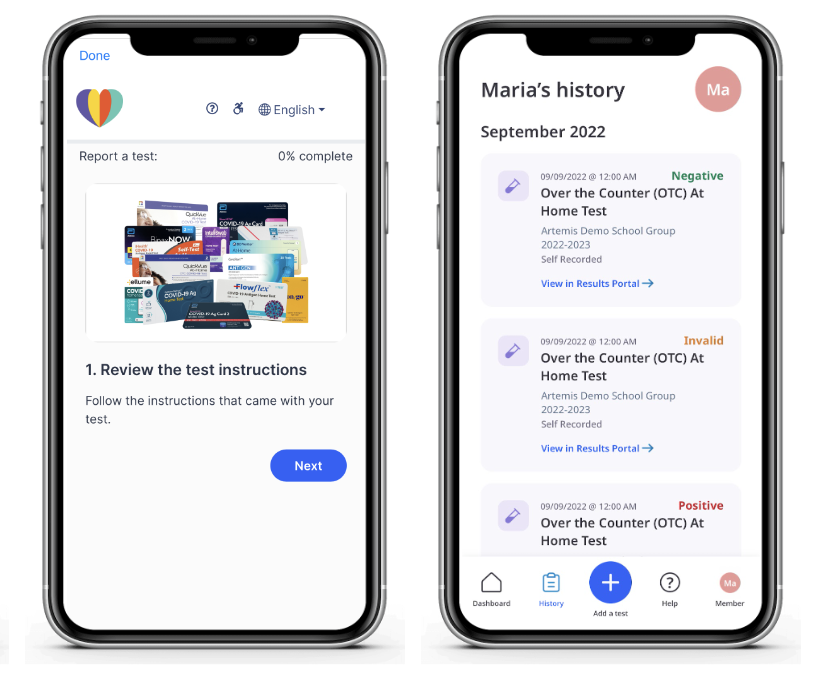 The portal is continually updated with new test-to-treat resources. If you know of a free virtual test-to-treat resource, please contact Primary.Health and ask us to add it to the portal.
Some users may be eligible to report OTC/at-home test results through the Primary Health Pass mobile app. Contact Primary.Health for details. 
Primary.Health's test reporting portal is one aspect of its comprehensive technology and diagnostics playbook to help reduce the spread of infectious disease. Our team is here to support you! Request a demo or call us at 1-855-970-3223.