COVID-19 pediatric vaccine for children ages 5-11
Approval of the COVID-19 Pediatric Vaccine means parents now have the ability to give their children the same protection against severe illness as adults.
The FDA and CDC approval of the Pfizer/BioNTech pediatric COVID-19 vaccine for children ages 5 to 11 will provide kids the same protection from severe illness that the adult vaccinations provide. In the first week the vaccines were made available, many parents who had been anxiously awaiting this approval rushed to get their younger children vaccinated.
COVID-19 case rates in younger children have been steadily increasing.
As masking becomes less prevalent in workplaces and other indoor locations due to higher adult vaccination rates, there is an increased risk of spread to the unvaccinated population. Now, with the approval and availability of the pediatric COVID-19 vaccine, parents can finally provide their children with additional protection.
Even with the FDA and CDC approval for child vaccines, it is important to recognize and address the understandable concerns of many parents. Reassuring information about the approval process, research and precautions taken into authorizing these pediatric COVID-19 vaccinations is available to help parents make an informed decision.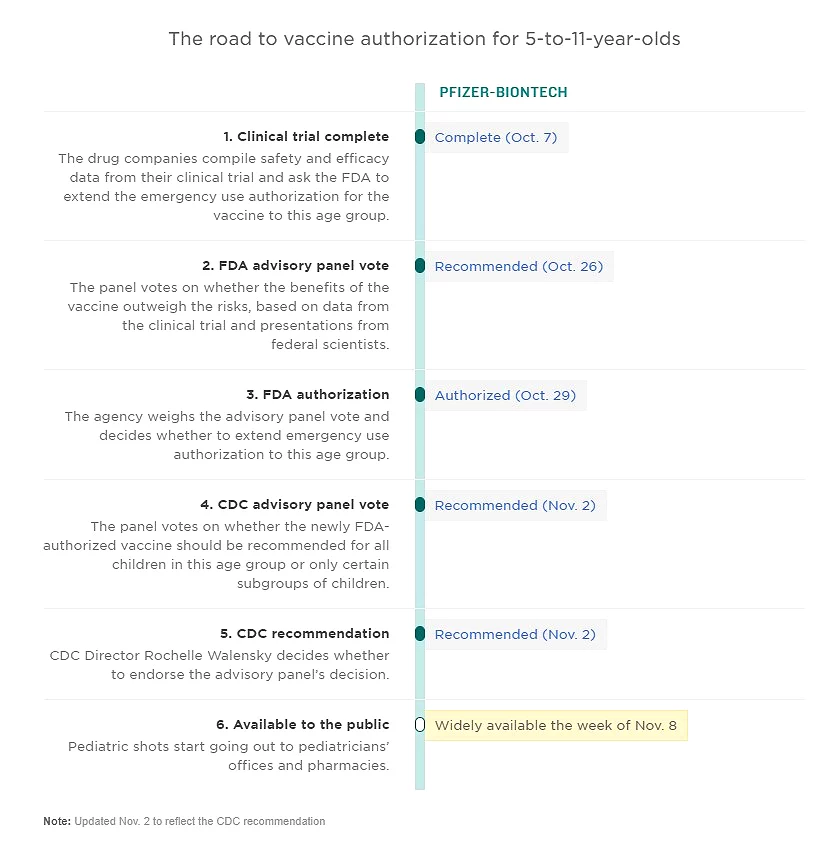 Image Source: Simmons-Duffin, Selena, and Alyson Hurt. "The Road to Vaccine Authorization for 5-to-11-Year-Olds." NPR, NPR, 2 Nov. 2021
FDA Advisory Committee
Several weeks ago, an FDA advisory committee convened to review research conducted by Pfizer/BioNTech. The company's three-phase clinical trial involving 2,268 kids ages 5 to 11 showed evidence that a low-dose version of the Pfizer/BioNTech vaccine offers upwards of 91 percent efficacy against the virus in children, after a full vaccination course, with no major side effects, according to Pfizer/BioNTech's press release. The most common side effect noted was a sore arm.
Senior Vice President of Vaccine Clinical Research & Development for Pfizer, William Gruber, was determined to drive one point home, "the corresponding benefits outweigh the risks."
The advisory committee's painstaking review of the research resulted in nearly unanimous support from its 17 members, minus one abstention, and played an influential role in the FDA agency's decision to grant full support.
In nearly all the various scenarios that the company laid out, including worst case scenarios, the pediatric COVID-19 vaccine proved an effective tool for saving lives.
FDA medical researchers indicated that the risk of childhood COVID hospitalizations without a vaccine, far outweighed the risks from the vaccine. Nonetheless, in the extremely unlikely scenario that a child experiences myocarditis (inflammation of the heart muscle), the condition is usually short lived with many patients recovering needing only ibuprofen and medical supervision, according to an NPR report.
Roughly a third of parents of children ages 5 to 11 are anticipating getting their child a vaccine as soon as possible, according to a Kaiser Family Health Foundation survey.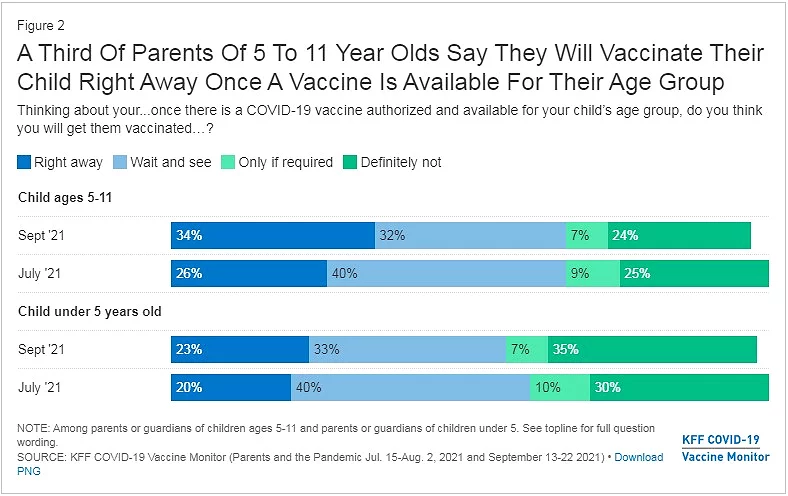 Widespread vaccine availability is fortuitous as parents eager to vaccinate their youngsters will be able to do so before the holidays to protect them against the more infectious Delta variant. Like adults, the committee recommended that children under 12 receive a series of two doses, at about a third the strength of the adult vaccine, spaced three weeks apart. The new doses will be packaged in orange-colored vials to differentiate them from the more potent adult version.
Since October, nearly 6.3 million children under 18 have tested positive for COVID-19, according to state-level data reports. While few children face severe COVID-related complications or death, long-term complications remain unknown.
A full series of the vaccine can immunize a child against the most severe symptoms with little to no side effects.
With the FDA's approval in mind, the Centers for Disease Control and Prevention (CDC) announced their endorsement and nationwide rollout is already underway. "COVID-19 vaccines have undergone – and will continue to undergo – the most intensive safety monitoring in U.S. history" the CDC asserts.
Families are taking their children to receive their vaccinations. Distribution efforts will reach full capacity this week with over 25,000 pediatricians and primary care providers already signed up to administer the shots, according to The Associated Press.
Primary.Health encourages parents to follow CDC guidelines and is committed to continuing to help empower parents to protect themselves and their children.
Until vaccines are distributed for children under five, parents can keep their littlest ones safe by encouraging regular hand washing with soap and water and utilizing masks in public spaces where social distancing is difficult. Routine cleaning and disinfecting of frequently touched surfaces such as door handles, switches and electronics is also an important protocol to reduce exposure.
As the United States enters flu season, which this year is being dubbed a "twindemic,"  it may be difficult to distinguish children's symptoms between COVID-19, the flu or the common cold. In general, children who contract COVID-19 experience mild symptoms or may be entirely asymptomatic. Children who experience any of the below symptoms should be kept home.
COVID-19 Symptoms can include:
Fever or chills
Cough
Shortness of breath or difficulty breathing
Fatigue
Muscle or body aches
Headache
New loss of taste or smell
Sore throat
Congestion or runny nose
Nausea or vomiting
Diarrhea
To rule out COVID-19, parents can use a rapid antigen test such as a BinaxNOW Self Test that can provide results in as little as 15 minutes with a simple nasal swab. If a child tests positive, family members and those within the household should quarantine themselves to prevent spread.
The CDC also provides practical advice on how to care for a loved one who has tested positive for the coronavirus including limiting contact, increasing protective measures such as improved ventilation, wearing gloves and masks, administering rapid antigen or PCR testing, monitoring family member health, and seeking immediate medical attention if symptoms worsen.
Parents who are concerned about their child's symptoms are encouraged to speak with their primary care physician.
As we head into a busy holiday season full of indoor gatherings and travel, a COVID-19 vaccine is your best defense against serious illness. Because the virus can still spread among the vaccinated population, testing remains an equally important protection against the spread of current and future variants of COVID.
Rapid Antigen Testing in Schools
Schools should also consider setting rapid antigen testing protocols before students and staff return from the upcoming holidays to reduce the likelihood of COVID-19 spread. Unlike PCR tests, which often take up to three days before providing results, rapid antigen tests provide results in 15 minutes. If schools test just before students return to campus, they can quickly identify any positive cases before kids are attending classes in close quarters. For optimal efficacy, it's important to rapid test again a few days later to catch any cases that did not test positive the first time. If schools take the rapid approach to COVID-19 testing, they will have smaller outbreaks and be able to contain them faster than if they use PCR tests. Ultimately, this means less COVID spread, less negative impact on parents and families, and less isolation for children.