Teacher in the classroom with her students
How California Protected Students and What We Learned From the Effort
If you're a parent or have parents in your circle, you know how important keeping kids in school and ensuring their safety has been to millions of Americans. One of Primary.Health's most important customers is the California Department of Public Health (CDPH), and we think they deserve tremendous credit for the work they've done to keep California students in school and ensure their safety.
CDPH and Primary.Health worked together in December 2021 and early in the new year on a back-to-school COVID-19 rapid testing campaign, to help ensure a safer return to in-person learning for students and staff after the holidays. This huge effort paid off not only in keeping kids safer, but also in providing learnings for other public entities, large employers, and the healthcare industry.
Distribution: How do test kits get to schools and then into the hands of parents?
Months before the holiday break, CDPH had the foresight to procure millions of at-home rapid test kits that they distributed, at no cost, to school districts across the state. Some schools were provided with instructions to send the tests home with students and staff on the last day of school before the holiday break.
Testing: How should parents be supported in following testing protocols?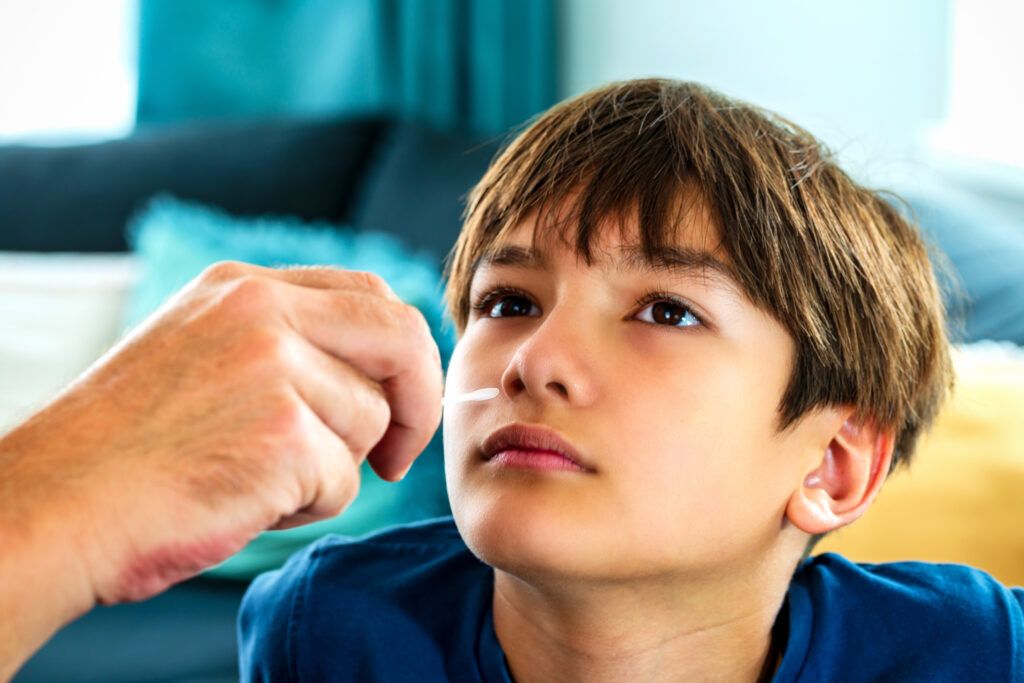 Parents, guardians and school staff were provided instructions on how to administer at-home rapid tests on two different days: three days before and the last day before returning to school. They were also provided a video: "How to use the iHealth COVID-19 Antigen Rapid Test."
After the tests were administered, many participants followed simple instructions that included a link provided by their school to log their test results using Primary's secure platform. By logging test results that were then centralized and analyzed by school administrators and CDPH officials, districts and the entire state had a clear, real-time understanding of the COVID status of school children in California, and could make critical decisions that ensured the safety of each child.
Reporting and Support: How could communication and individual support happen on a massive scale?
One of the biggest challenges facing any large organization is registering participants, collecting consent and required data, and pushing out appropriate communications based on test results. CDPH's testing program for schools utilized Primary's electronic registration portal, which lets participants electronically consent, send communications at the right time, and report results.
Registration is done through a simple user interface, and uploading test results is easy and secure. The Primary platform then provides customized automated messaging via SMS or email to communicate with participants, and a dedicated team of live customer support managers are available to provide support in real-time.
Testing data: How can it be centralized and securely used for protecting public health?
CDPH used Primary's secure platform to centralize diagnostic data from the at-home rapid testing provided to school districts, state, and local health departments. Between December 2021 and January 2022, millions of COVID-19 rapid antigen tests were distributed to the K-12 Schools at-home testing program. A subset of schools was asked to emphasize reporting; these populations demonstrated an average voluntary reporting compliance rate of 77.2%. Schools with much higher rates of up to 96% achieved those rates by strongly encouraging parents to self-report.
Overall, the self-reported positivity rate spiked from 3.2% in late December to 6.3% during the first week of January 2022. This data made it easier to track positive cases and allowed for faster interventions to reduce the spread of Omicron, the prevalent COVID-19 variant. We believe that with further program refinement and school support, voluntary reporting rates above 80% are possible and above 95% with mandated reporting.
What can other entities and employers learn from CDPH's at-home rapid testing program for schools?
With a little foresight and teamwork, proactive testing on a massive scale is not only possible, but people are willing and able to step up to report their results for the good of public health. Every stakeholder in the protection of children and broader public health played their part: CDPH procured tests, schools provided test distribution, parents and staff members followed a plan, and Primary provided the technology platform that unified participants, officials, and providers. Working together, the right people got the right data, at the right time, to reduce the spread of COVID-19 on school campuses across the state.
Underscoring the critical importance of testing with sufficient frequency, 97.5% of the positive tests logged were from participants who were not symptomatic, which means that without testing, those individuals could have unwittingly exposed students and staff following the holiday break.
What has the pandemic taught us?
The pandemic has exposed many weaknesses in healthcare, particularly its lack of agility, how siloed its many components are, and the lack of affordable, ubiquitous health diagnostics. It's also given us proof that rapid testing can indeed slow and even prevent the spread of illness.
Our many customers, and we at Primary.Health, believe that democratizing health diagnostics and light primary care is essential for protecting public health. We believe that healthcare should expand beyond the confines of doctor offices and hospitals and meet individuals who need diagnostics and care where they are, regardless of who they are. We commend the CDPH for their foresight, their speed and the level of care they showed for California's children, and we look forward to continuing our partnership, beyond the pandemic, to protect public health in California.