Parent walking to school with children
Parents are worried about K-12 students returning to in-person learning. What are schools doing to help prevent the spread of COVID-19?
With the highly contagious COVID-19 Delta variant sweeping across the nation, and children under the age of twelve not yet eligible for vaccines, parents and guardians are understandably concerned about the return to K-12 in-person instruction. In fact, they're not just concerned, many are fearful that the return to the traditional classroom setting is too risky. For families struggling to regain work, school and life balance, the decision to send their kids back to the classroom is complicated by the pros of in-person learning versus the potentially significant impact of COVID-19 illness.
What we know is that in-person learning benefits kids academically, developmentally, socially, and for many, nutritionally. What we also know is that the pandemic is not over, and the Delta variant presents an increased risk for unvaccinated people in socially close quarters, like a classroom.
If we've learned anything during the last 18 months, it's that there isn't a foolproof method to stop the spread of COVID-19. However, while preventing transmission 100% of the time is not possible, it is possible to minimize the spread by using safety protocols set in place by the CDC and healthcare experts.
What protocols have schools put in place to keep kids safe in the classroom?
Wearing Masks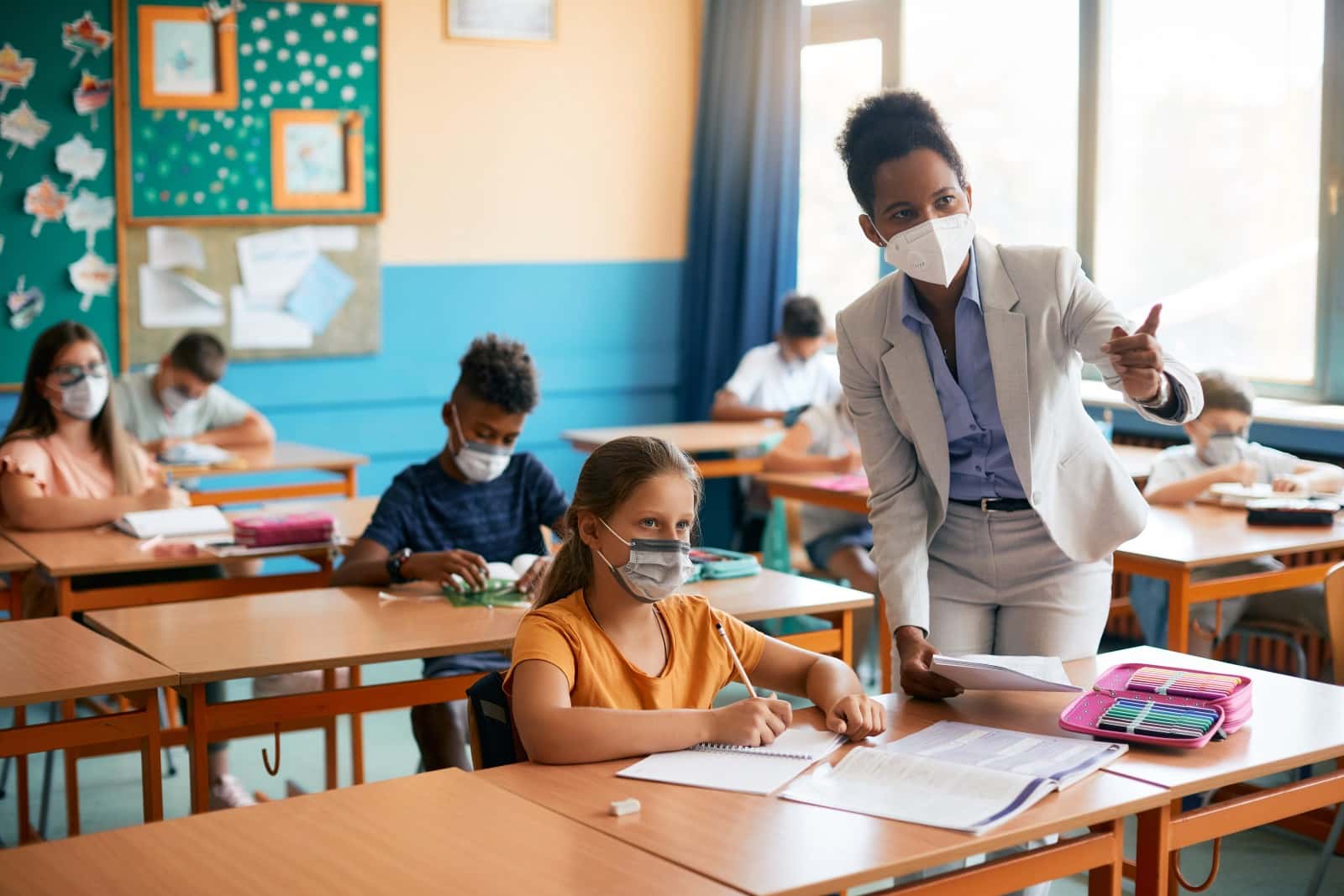 A majority of schools are following the CDC's COVID-19 guidelines for "consistent and correct mask use." For example, according to Burbio's K-12 School Opening Tracker, out of 200 top school districts, 70% are requiring masks, 29% are not and 1% have "other" policies that are circumstance dependent. Some schools require students and staff to wear masks, and other schools do not. This variance creates a conundrum for those parents who want all students to mask up for safety but have a child enrolled in a school without mask requirements. Other parents may hold the view that mask wearing is detrimental to young children and not want their child to wear a mask. Either way, it's important to note that schools cannot prohibit your child from wearing a mask in the classroom.
Do Masks Help Reduce the Spread of COVID-19?
According to a recent study published in JAMA Insights, "Compelling data now demonstrate that community mask wearing is an effective nonpharmacologic intervention to reduce the spread of this infection, especially as source control to prevent spread from infected persons, but also as protection to reduce wearers' exposure to infection." Authors John T. Brooks, MD and Jay C. Butler, MD also address whether mask wearing by children inhibits verbal and nonverbal communication and conclude that, "…children aged 7 to 13 years have been shown to be able to make accurate inferences about the emotions of others with partially covered faces."
Do some masks provide better protection than others?
At times during the pandemic, medical and N95 masks, which provide the highest level of protection and are critically needed by healthcare professionals, have been in short supply. To meet the demand for masks, as well as to provide style choices for everyone (over the age of two,) vendors now supply cloth masks of various qualities and aesthetics. It's important to take comfort and fit into consideration (if your young child won't wear the mask, the protection level is zero.)
When choosing a cloth mask, the California Department of Public Health recommends:
1. Two layers of tightly woven cotton with a third layer of non-woven fabric. The third layer could be a mask filter insert, or a synthetic fabric such as polypropylene.
2. Nose wires to reduce gaps from the nose.
3. Adjustable ear loops or straps that go around the head to reduce gaps from the face.
My child doesn't like to wear multi-layered masks. Are they really more effective?
The simple answer is yes. First, a bit about how the virus spreads. According to the American Lung Association, "The virus that causes COVID-19 spreads by way of respiratory droplets and aerosols most commonly caused by coughing or sneezing, but also through talking, singing, yelling or even breathing. A cough can release up to 3,000 droplets traveling 50 mph. A sneeze releases about 30,000 droplets at a rate of 200 mph. The largest droplets then can travel within 6 feet, with even smaller particles or aerosols able to travel even further." Viral load (the amount of the virus that is in an infected person's nasal passage) varies from person to person, but even "as few as 1,000 viral particles of SARS-CoV-2 may be able to infect someone."
When it comes to the effectiveness of multi-layered masks, JAMA Insights reports, "In recent laboratory experiments, multilayer cloth masks were more effective than single-layer masks, blocking as much as 50% to 70% of exhaled small droplets and particles." WebMD reports that, "People with COVID-19 who continue to show a high viral load seem to have more serious symptoms. As viral loads go down, their chances of getting better go up." It's not a foregone conclusion that a multi-layer mask will reduce viral load but common sense dictates that blocking more of the virus can only help.
COVID-19 Screening Tests
Many school districts are implementing a multifaceted COVID-19 prevention strategy that, in addition to mask wearing, includes social distancing (when possible), frequent handwashing and classroom sanitation, better ventilation to reduce viral particles, and COVID-19 testing for students and staff. Schools set their own testing protocols which may include screening all students on a set schedule, diagnostic testing for symptomatic students, and testing for all students exposed to an outbreak of COVID-19 on campus.
Do I need to wash my child's mask every day?
Yes. Health officials universally advise that non-disposable masks should be washed after every use. Providing students with a facemask for every day of the week is a convenient option for parents and provides kids the option to choose their "mask of the day." This may help younger kids be less resistant to having to wear a mask. Keeping a backup mask in a sealed bag either in your child's locker, or backpack, is recommended in the event that a mask is lost or soiled while at school.
What kinds of tests are available?
1. Rapid Antigen Tests: These tests detect protein fragments specific to the Coronavirus and results are provided in less than 30 minutes. Rapid tests are considered most accurate when the person is showing symptoms.
2. PCR Tests: These tests are considered the "gold standard" in detecting SARS-CoV-2 by identifying the RNA (or genetic material) that is specific to the Coronavirus. These tests are sent to a lab for analysis and results can take 1-3 days.
3. How accurate are rapid antigen tests? In a UCSF study, researchers noted that, "recent data suggest that frequent testing with short turnaround times, even with lower test sensitivity, is more likely to identify a subject early in COVID-19 infection, even while asymptomatic, than highly sensitive tests performed less frequently."
Back to school
When the COVID-19 pandemic presented in early 2020, missing a week or two of school was a novel event for students. However, as the pandemic dragged on, and social distancing became imperative, kids K-12 had to adapt to non-traditional learning methods and social isolation.
The circumstances were beyond challenging, but teachers and parents made great efforts to keep the learning on track. Kids rose to the challenge as well as they struggled to focus without the classroom structure, while also coping with the secondhand stress of parents trying to manage remote learning, keep their families safe, pay the bills and juggle childcare.
Now, despite the steady rise of COVID-19 cases fueled by the highly contagious Delta variant, kids have returned to the classroom. While schools have set protocols, such as masking, increased classroom sanitation and ventilation, hand washing, and COVID-19 rapid testing to minimize the risk of contagion, not all schools are mandating masks and tests. Further, some states do not require that teachers and staff be fully vaccinated or be tested at least once a week.
California was the first in the nation to issue a public health order that requires all school staff to either provide proof of vaccination or be tested weekly. According to CDPH,
"Vaccination against COVID-19 is the most effective means of preventing infection with the COVID-19 virus, and subsequent transmission and outbreaks. Current CDPH K-12 guidance strongly recommends vaccination for all eligible individuals, thereby reducing COVID-19 rates throughout the community, including in schools, and creating a wrap-around safety layer for unvaccinated students. This Order, consistent with this recommendation, requires verification of vaccination status among eligible K-12 school workers, and establishes diagnostic screening testing of unvaccinated workers to minimize the risk that they will transmit while on K-12 school campuses, where a majority of students are not vaccinated and younger students are not yet eligible for vaccines."
Parents are following the COVID-19 trajectory closely and many wonder if "back to school" is quickly going to become "back to remote." In fact, it's been less than a month and already, according to U.S. News & World Report, "The number of school closures due to COVID-19 is increasing alongside pediatric infections as the country's public school system fully reopens – in many places with low vaccination rates and mask-optional policies."
Beyond classroom safety protocols, vaccinations and COVID-19 screening programs are incredibly important tools to help minimize the spread of Coronavirus, and prevent outbreaks in K-12 schools.